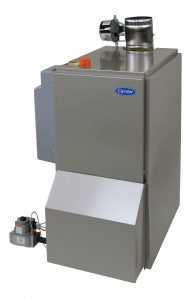 If your gas boiler is older, chances are it's not operating as effectively and efficiently as you'd like. It may be time for a replacement. When it comes time to purchase a new boiler, Reidy can provide you with a gas boiler installation you can trust. You'll enjoy greater home comfort, and save money on utility bills.
Reidy works with leading gas boiler manufacturers, so we can offer you the best products available. And, our professional service technicians provide expert installation, with your budget in mind. By choosing us for your gas boiler needs, you'll enjoy improved home comfort right away, and for years to come.
You can trust Reidy when it's time for a gas boiler installation in your home.
At Reidy, we make sure our technicians are thoroughly trained and NATE-certified, so they can provide you with the best gas boiler installation possible. We're proud of our workmanship, and your satisfaction is important to us. That's why we strive to provide for any boiler need you may have. That's why we offer:
When you need help with gas boiler installation, Reidy Heating & Cooling is ready to assist you. Call us today at (413) 534-3749 to find out how we can help you with your home boiler needs.