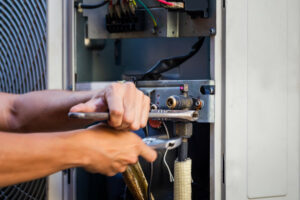 As most homeowners and businesses in Hatfield, MA know, HVAC systems in this area work hard year-round. Whether it's heating or cooling through long, unpredictable seasons, we rely on our HVAC systems to maintain the comfort of our homes and businesses. Unfortunately, such extensive usage causes wear and tear which can lead to unexpected breakdowns if not identified during routine maintenance.
To help locals with their HVAC needs, whether it's annual maintenance, emergency repair, or a new system installation, Reidy Heating & Cooling offers all these services and more. Going beyond heating and air conditioning, we also provide a complete range of plumbing services. Whether it's for your home or commercial property, our goal is to ensure your total comfort. Learn more about each of our services below.
Heating and Air Conditioning Services in Hatfield, MA
Air Conditioning: We provide AC maintenance, repair, new system installations, and ductless mini-split AC services to keep your home cool on even the hottest summer days.
Heating: We offer a complete range of heating services, including: heating maintenance, repair, installations and replacements, ductless mini-split heating, heat pump services, oil to gas conversions, and baseboard heating.
Furnaces: If you're having oil or gas furnace issues, we can provide expert repair, maintenance, or replacement if necessary.
Boilers: It's important that you ensure your boiler is working properly before an unexpected problem crops up in the middle of winter. We provide comprehensive services for both oil and gas boilers.
Plumbing Services in Hatfield, MA
Plumbing: Nothing is more frustrating than having plumbing issues while at home or in the office. When it happens, you should know that you can call Reidy for prompt service. We offer a complete range of plumbing services, including: water heaters, tankless water heaters, oil water heaters, gas water heaters, electric water heaters, water filters, bathroom plumbing, kitchen plumbing, and gas piping.
Commercial Services in Hatfield, MA
Commercial Services: You already have enough on your plate when running your business. HVAC and plumbing issues shouldn't get in the way. Give us a call so we can focus on providing the best comfort for you and your customers. In addition to plumbing, heating, and air conditioning services, we also service rooftop units, commercial boilers, air balancing, commercial hot water systems, zoning systems, commercial heaters, snow melting, commercial and air duct systems. Not to mention, we offer preventive maintenance agreements to keep your equipment in top shape year-round.
Additional Services
Additional Services: To maximize the comfort of your residential or commercial space, we provide additional services, such as indoor air quality, humidifiers, UV light, air purification, air cleaners, and pool heaters.
Choose Reidy for All Your Home & Business Comfort Needs in Hatfield, MA
When you need heating, air conditioning, plumbing, or any other services we offer for your Hatfield home or business, you can count on Reidy Heating & Cooling for professional and reliable service. Just call us at 413.534.3749, and we'll be happy to assist you.