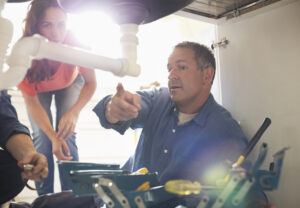 Spring has arrived, and that means the weather is warming up and the days are getting longer. It also means that summer is right around the corner. Plumbing problems can curtail those lazy, hazy days though, so why not take this opportunity to make sure your plumbing system won't be causing any concerns when vacation time arrives.
How can you make sure your plumbing is in good working order? In this article, we'll share five things you can do to ensure your home's plumbing system is working like it should. And, we'll tell you how Reidy can help with any plumbing problems you might have in your home – keep reading to learn more!
5 Ways to Ensure Your Plumbing is Working Properly
Now is the time to make sure your home's plumbing is in working order so you can enjoy a worry-free summer season. Here are five ways you can do that:
Check Your Drains: Make sure all drains throughout your home are free from debris and blockages that could cause problems down the road. If there are any clogs or slow draining sinks, treat them with a commercial drain cleaner as soon as possible. If this doesn't help, it might be time to call in a plumber so the problem doesn't become a bigger one, such as a burst pipe.
Inspect Your Pipes: Look around outside for any exposed pipes or hoses that may have been damaged over winter due to freezing temperatures and snowfall accumulation. It's important these be repaired quickly before they lead to more costly repairs in the future.
Test Water Pressure: High water pressure can put extra strain on appliances like hot water heaters, dishwashers and washing machines. And that can cause them to not function properly, which can lead up to expensive repairs or replacements.
Check Your Sump Pump: If your basement is prone to flooding, you probably have a sump pump. It's important to inspect it in the spring to make sure it's free of any debris and the inlet screen is clean. You'll also want to make sure the float switch, check valve, and power supply are in good working order. Not sure how to maintain your sump pump yourself? The plumbers at Reidy will be more than happy to help.
Schedule Maintenance: Have an experienced plumber from Reidy come out during this time of year just as preventive maintenance measure. This can guard against potential issues down the line, such as water leaks or burst pipes. Catching small problems early on can help you save on repairs and any potential water damage later on!
By taking these steps now, you'll have peace-of-mind throughout this upcoming season knowing that your home's plumbing is ready for the summer months.
When you need help with your home's plumbing, count on Reidy.
You know you can count on Reidy Heating & Cooling for your home comfort system, but did you know we can help you get the plumbing services and products you need as well? At Reidy, we're pleased to provide you with a comprehensive listing of plumbing products and services. So, whether you're dealing with a leaky kitchen faucet, or need a new hot water heater, Reidy is ready to help.
Our plumbing technicians are fully qualified to help meet your plumbing repair and installation needs. We offer comprehensive installation of any type of water heater, and we can help when you have bathroom and kitchen plumbing needs, too. Call us today at (413) 534-3749 to find out how we can help you with your plumbing needs.