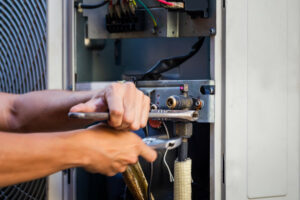 Finding a HVAC contractor you can trust isn't always an easy task. At Reidy Heating & Cooling, we try to make that decision easier for homeowners and businesses in Granby, MA. Our talented team of technicians and plumbers have years of experience and expertise in their respective fields. We've provided comfort solutions to thousands of customers with one goal in mind: their total satisfaction.
In Granby, you need to have both reliable heating and cooling to be prepared for the weather swings. To help you prepare and ensure your total comfort, we offer comprehensive HVAC services. Whether you need annual HVAC maintenance, emergency repair, a new installation or replacement, you can count on us for prompt, quality service. The same goes for our plumbing solutions. Contact us at the first sign of a leak or any other plumbing need, and we'll be happy to assist you.
Heating and Air Conditioning Services in Granby, MA
Air Conditioning: We provide AC maintenance, repair, new system installations, and ductless mini-split AC services to keep your home cool on even the hottest summer days.
Heating: We offer a complete range of heating services, including: heating maintenance, repair, installations and replacements, ductless mini-split heating, heat pump services, oil to gas conversions, and baseboard heating.
Furnaces: If you're having oil or gas furnace issues, we can provide expert repair, maintenance, or replacement if necessary.
Boilers: It's important that you maintain your boiler before an unexpected problem crops up in the middle of winter. We provide comprehensive services for both oil and gas boilers.
Plumbing Services in Granby, MA
Plumbing: It can be frustrating when your water heater stops working or your pipes burst out of nowhere. When it happens, you should know that you can call Reidy for prompt service. We offer a complete variety of plumbing services, including: water heaters, tankless water heaters, oil water heaters, gas water heaters, electric water heaters, water filters, bathroom plumbing, kitchen plumbing, and gas piping.
Commercial Services in Granby, MA
Commercial Services: You already have enough responsibilities when running your business. HVAC and plumbing issues shouldn't be one of them. Give us a call so we can focus on providing the best comfort for you and your customers. In addition to plumbing, heating, and air conditioning services, we also service rooftop units, commercial boilers, air balancing, commercial hot water systems, zoning systems, commercial heaters, snow melting, commercial air duct systems, and preventive maintenance agreements.
Additional Services
Additional Services: To maximize the comfort of your residential or commercial space, we provide additional services, such as indoor air quality, humidifiers, UV light, air purification, air cleaners, and pool heaters.
Choose Reidy for All Your Home & Business Comfort Needs in Granby, MA
When you need heating, air conditioning, plumbing, or any other services we offer for your Granby home or business, you can count on us for professional and reliable service. Just call us at 413.534.3749, and we'll be happy to assist you.